Performances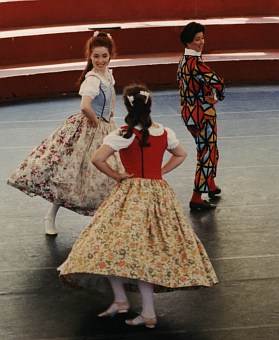 Consort de Danse Baroque offers lively entertainment incorporating dance, music (and in some cases readings from contemporary sources) of the Baroque era, which will appeal to music and dance-lovers alike. Wearing period costumes, the dancers recreate the lavish atmosphere and delightful dances of the Courts of Europe in the late 17th and early 18th centuries. The company perform with their own musicians and also welcome opportunities to work with other musical ensembles.
As well as performances, Consort de Danse Baroque offers workshops and lecture-demonstrations. These are complete activities in themselves, but also help develop an interest in, and appreciation of, the performance. Consort also offer shorter performances (e.g. the Water section from "A Masque of the Elements") and can act as a host for a Baroque Ball, providing musicians, a dance instructor/caller, and dance demonstrations in costume. Corporate entertainments are also catered for.
Press Quotes
"… quietly superb … can only be described with superlatives."
(Early Dance News)
"It was a delight to be present on this evening of Baroque dance and music – a thoroughly professional and inspired performance."
(What's Happening, Cardiff)
Programmes
Consort de Danse Baroque can offer a wide range of programmes, ranging from a "themed" concert performance of dance, music and contemporary readings such as …
"Purcell and his contemporaries"
"Dance and music from the Courts of Europe"
"Le Roi Soleil: Entertainments from the Court of the Sun King"
"Pastoral Pleasures"
… to a full-scale masque entertainment such as …
"A Celebration of the Seasons"
which combine reconstructed eighteenth century dances with specially choreographed dances in the Baroque style, devised and directed by Philippa Waite.
Performances are suitable for a wide range of venues from theatres, arts centres, galleries, museums and colleges to castles and stately homes, and last approximately two hours but shorter performances are available.